Last month the lovely
Shell
hosted
Rockin the Bump
. It was a huge success, and she's following it up this month with Rocking the Baby. Mommy bloggers are to share some of their favorite baby pics. If you've been reading this blog for any period of time, you've seen plenty. But if you're new, here's your chance to look back at SB's first year.
Hi Mommy!
3 months
6 months
9 months
First Birthday
Hard to select just a few pics to share. Obviously, I think EVERY photo of my sweet SB as a baby is cute. I always enjoy an opportunity to look at them. Thanks, Shell, for the excuse!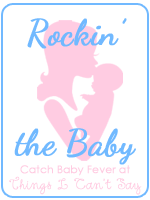 I am also over at And Nobody Told Me today talking about motherhood and privacy. And wondering if I will ever get to pee by myself again...