Check it out! I have a header and a blog button! I'm like a real, bonafide blogger now. About time, since I have almost been at this a whole year!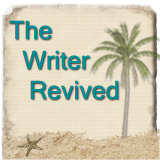 I entered - and won - a contest my lovely Twitter friend had on her blog,
The Scoop on Poop
. As my prize, Stephanie, aka
The Drama Mama
, who does design, offered me a custom holiday card design or a blog header and button.
I had already sent out my holiday cards, and had wanted to make my blog look more official for a long time. So I signed up for the latter.
Since Stephanie runs a
design business
and was doing my work gratis, she needed to get through some paid jobs first. So I waited patiently. It was worth it!
Her task was not simple. I blog about a range of topics here. I'm a mom and a writer, and I wanted both represented.
I use the beach as my background because it is my happy place. And, I live in Florida. So I wanted to keep that, and she had to work to incorporate all those things.
I think she did an awesome job. I love the finished product! Tell me what you think...
NOTE: Commenting from a mobile device disables all other commenting. Until I can figure out how to solve this glitch, I ask that you not comment from any mobile devices. I apologize for the inconvenience. I do value your input. Thank you!